Regular price
Rs. 225.00
Sale price
Rs. 221.00
Unit price
per
Sale
Sold out
1) Works as a deep cleanser
2) Removes black dead cells
3) Unclogs the pores
4) Nourishes and protects the skin without causing dryness and tightness
5) Maintains moisture level
KEY INGREGIENTS

● SandalWood Extract
● Aloe Vera Extract
● Cucumber Extract
● Wheat Germ Extract

ABOUT BRAND

"Why should I go for Brand Vegetal India?"
True cleansing is impeccably internal. We still can't do much internal cleansing by ourselves,
even though we are the sole owner of our bodies. So we rely on the external art of cleansing
which enters our body and cleans our tissues, and other vital organs. Here the ancient art of
Ayurveda appears as a boon.
Our products have a unique combination of Technology and Ayurveda that deliver – True
beauty. Our products are never being tested on animals at any stage of production thus we
never promote animal cruelty, just to test any product. The exclusive range of 100% Natural
Vegetal India products delivers authenticity and amazing quality and the inherent belief.
We pick the most useful ingredients from the peerless treasure of Nature and Ayurveda and
combine them with organic essential oils and herbal extracts to nourish & flourish your skin and
body.
OUR METHOD

How we made it ?
We rely on Nature's ecstasy for our products. That's why we use Bio-Active Extracts rather than
raw extracts of herbs. This makes our product concentrate naturally more productive. Our
result-oriented process and belief in Bio-Active Extracts help us achieve the solution
sustainably. As they are 100% natural, the extracts are 100% safe and effective for specific skin
concerns and deliver evident results.

View full details
Vegetal Sandal Face Wash cleanses your skin and gives natural frigidity of freshness
Your skin is lacking the natural radiance, it has become dull or has an uneven tone then don't
worry because the Vegetal Sandal Face Wash is always there to make your skin free from
dullness, patchy skin tone, and lack of radiance. This face wash has the integrity of pure natural
ingredients. vitaMin E in the Wheat Germ Extract nourishes the skin with its antioxidant property.
Aloe Vera maintains the hydration level of the skin, and the SandalWood Extract gives instant
radiance.

HOW IT WORKS?

Vegetal Sandal Face Wash deeply cleanses the skin and removes the black dead cells. It
protects and nourishes the skin without causing tightness or dryness.


HOW TO USE?

Take a sufficient quantity of face wash in your wet hand. Apply it gently on your wet face and
neck region in a circular motion. Then wash it thoroughly. Use it in the morning and evening
daily for the best results.


WHO IS IT FOR?

The Vegetal Sandal Face Wash is a unisex product. It is effective on the skin of women and
men both.

FAQ's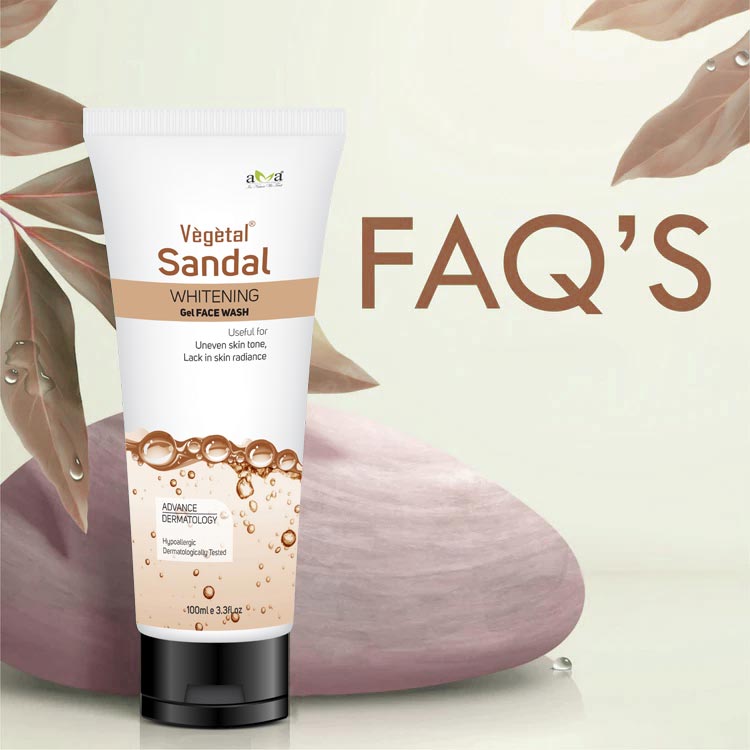 Is it suitable for my skin?

This face wash is suitable to use for Normal, Dry, and Oily skin
Is it also helpful in dark spot reduction?

Yes, it reduces dark spots and provides an even tone to your skin.

Can I use it for acne control as well?

Yes, you can use this face wash for acne control as well.

How does it maintain the ideal moisture level of the skin?

It controls the skin pH and keeps the skin ideally hydrated
Does it unclog the skin pores?

Yes, it unclogs the skin pores and lets the skin breathe
Is it free from harmful chemicals?

Yes, you can use it without any worry because this face wash is free from SLES, Parabens, and
other toxic ingredients.